Welcome back to Festive Friday number 4…already! The time is flying and it won't be long before that man in red sets off on his travels. My two youngest are frantically making lists, editing and re-editing them and the five-year old keeps shouting 'I want that' during advert breaks on the telly. I am seriously thinking about buying or making myself a nice pair of festive themed ear muffs so I can edit out the 'I wants' and concentrate on all the fluffy, sparkly, cinnamon scented bits that I  enjoy.
Tomorrow evening we will be trotting into town to watch the lights being switched on, sing a few carols around the Christmas tree and to 'ooh' and 'ah' at the fireworks. We will all suffer from the now traditional frozen feet and will return thankfully to our nice warm fire and a cup of something hot – advent will be under way!
I love advent, the build up to Christmas is absolutely the best bit so I do go a bit loopy and our traditions *may* be getting out of hand, I wrote about them here last year!
I'm not so keen on the shopping bit of Christmas but there is one bit I absolutely adore and it is the bit I am concentrating on this week and which I want to share with you!
Every year on Christmas Eve I bring down the Snuggle Sack, we all sit in front of the fire and I pull out its treasures one by one with a dramatic flourish. It has become our very favourite family tradition and, when I asked them recently what the best bit of Christmas was, they all said Christmas Eve and the Snuggle Sack!
It will contain some of these things:
1. New dressing gown/pyjamas/slippers/comfy thing (last year they all had fleece blankets)
2. A decoration for the tree
3. Some nibbles (savoury and sweet, must include Twiglets for teens, homemade chocolate fudge, a nice piece of cheese, tortilla chips and a dip)
4. A new book each
5. A DVD we can all watch together (we probably won't get round to watching it on Christmas Eve but we will know it is there)
6. A puzzle/game to play (we had mini trivial pursuit one year, one of those fiddly metal untangly things another)
7. A candle (preferably scented with cinnamon or orange and homemade)
8. A sprig of mistletoe
9. A bottle of wine & one of lemonade
10. All my love
We will all change into our comfy stuff and snuggle in. I love it, I'm grinning just writing it down!
What is your very favourite bit of Christmas?
If you have a Christmas blog post old or new to share do pop it on the Linky and have a look at what everyone else is up to while you're there! Please link back here, thank you, and grab the badge if you'd like! If you are new to Festive Friday look here to see what it's all about.
Powered by Linky Tools
Click here to enter your link and view this Linky Tools list…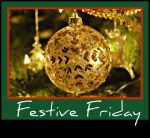 I am also linking this up to Alexander Residence's lovely Little Legacy Linky. Click on the acorn and you will be whisked away!