You know you've brought your family up well when one of them goes to the shops to buy a jar of emergency sweet spread, notices a bottle of squeezy honey and buys that one 'because it's a good shape Mum, I thought we could make something with it'.
He was right.
We coated her with two layers of acrylic paint in white, mixed up a pink for her face (she looked embarrassed and we had to tone the second layer down a bit) and then liberally sprinkled her dress with glitter.
Her wings are funky foam which obligingly comes pre-glittered and her halo is three glitter pipe cleaners twisted together.
We think she's rather lovely and she will be adorning one of our seven Christmas trees when they start going up at the beginning of December!
This will be linked up for my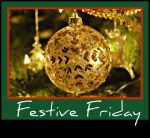 do pop along and share your festive frivolities!
Also happily shared with: