Bonus Boy came home from school this week with his new personal goal firmly grasped in his hand.
We have asked the children to decide on a goal which they feel they can achieve by the end of term. We would appreciate your support in helping your child to achieve their goal.
Bonus Boy has written in his best handwriting My goal is to learn to knit.
Not too ambitious then! So, guess what?  This weekend's Family Fun is learning to knit!
Obviously I don't expect him to go to school on Monday proudly wearing a pair of mittens he has run up, this challenge is going to take some thought! So, this is my plan for the next few weeks, let me know what you think and if you have any ideas, they will be very gratefully received!
We're going to begin with some weaving as he can get a quick result easily and that is very important with small children. I don't want him put off before he's started. We already have 3 small weaving looms(the advantage of having done all this before with the older ones) and a good yarn stash thanks to my own recent conversion to the joy of knitting! It would be great if he could finish the weekend with a blanket for one of his tiny teddies.
I'll follow this with Finger Knitting. This is really simple and very effective as you can see
I'm hoping, if he's patient enough he can produce a nice long snake made from finger knitting!
Next we'll have a go at a bit of French knitting, remember that from when you were small? Again, we have some knitting dollys already (my Mother in Law is a big knitter and has encouraged my children over the years with little knitters' gifts) but I think I shall order him a large one as the small ones are very fiddly with the chunky fingers he is endowed with! This time, I am hoping he can produce a scarf for one of those tiny teddies!
Once he's mastered these techniques (and I know this sounds ambitious but I'm anticipating it taking several weeks, a lot of patience and only spending a little bit of time on it each time we have a go!) we will bring out the needles! I have a fantastic book which I bought for my daughter not very long ago called Kids Learn to Knit which has really clear explanations for children who can read (my daughter is coming along for the ride as she wants to improve her knitting skills) and is really useful if you are the one doing the teaching. It has beautiful, funny cartoon illustrations and lovely simple little projects.
I think (with my teacher and my Mummy hats on) that it is important to grab the moment with children when they show an interest in learning something, especially if it has come out of watching you do something you love! I hope that this plan will enable him to reach his goal by encouraging little steps resulting in finished projects which he can play with. Wish me luck, I'll keep you up to date with progress!
So, what have you planned for the weekend? Have you posted something we could have a go at or been somewhere families would enjoy? Do pop any posts (old or new) which will give us all ideas for Something for the Weekend! When you link it would be lovely if you could link back here and pop the badge on your blog so other people can join in! Have a lovely weekend with your family!
Powered by Linky Tools
Click here to enter your link and view this Linky Tools list… (I will then manually input them on the post as WordPress isn't keen on Linkys and won't show them in the main body of the post, this is my way round that little problem!)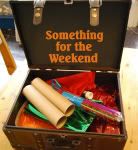 You can get the code for the badge over there in my sidebar!
1. Get crafty, then stage a play – Red Ted Art
2. Organise your art work – Red Ted Art
3. Pasta Art Butterfly – Mummy Mishaps
6. Volcano!
8. Easy Homemade Apple Chips with a Valentine's Day Twist: Frugal, Fast and Fun
We are already building up a lovely resource bank for parents and this is only our third week! Thanks so much for contributing if you have, if you're new here have a look at this post which explains what Something for the Weekend is all about!
I am happily sharing this post with The Head's Office Resource Centre which shares teaching ideas and resources in a weekly link up.